When people in Tucson think "March Madness" they are usually thinking about college basketball. The University of AZ has a good chance of going all the way and winning big this year….Yeah!!!! Go Wildcats!!!!
No, I'm not being sarcastic…yet 😉
I'm talking about a whole different kind of March madness, and an entirely different take on spring fling, spring fever, and there's spring in my step! When I say March madness, I'm referring to the area in my yard that extends past the patio and (trust me) the weeds take on a number of "little shop of horrors" attributes. This ensures that I will be madder than a hornet, contemplating just how I am going to make my yard look like the one that I envision in my mind. I picture something like this one from Better Homes and Gardens.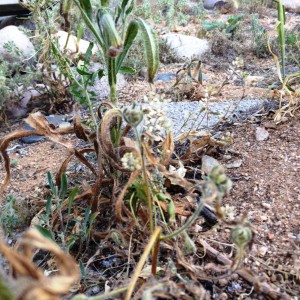 What I have in my yard is BIG, GIANT, FULL-OF-THORNS, WEEDS (shown actual size) that when stepped on, put a spring in my step, and when in full bloom, are guaranteed to bring on spring hay fever! Just try to pull them up by the roots and do the spring fling into the garbage pail….. I've tired it and I ended up with a garden glove full of stickers and dirt in my hair!
But what my new snoodle puppy Rosie-Posey says is, "It's spring! Look at the flowers! If you look at them closely enough even the weeds look pretty….. and take a look at this round rock thing….it's AMAZING!" (I know, I know, don't take it as proof positive, that your sorry attempt at yard décor is fabulous, just because your dog thinks so.)
Rosie and I love to spend time in the yard….. we ignore the weeds we can't conquer…the ones that are imbedded in the hard, dry, Arizona dirt. In a couple of months it will be too hot out for even those weeds. We enjoy the mild temperatures and the sunshine while we can.
And my little snoodle reminds me that we have a couple of upstart plants that bring the bees and butterflies and bright color to the yard and that it's good to take a break and stop to smell the flowers. Getting out in nature is inspiring!
Copyright © Mary M. Ehlers, Good Muse Designs 2015. All rights reserved.
« I have a secret addiction… I don't (really) design…. I doodle! »