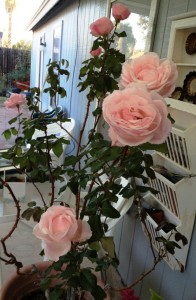 Yes, I know it's easy for me to say I have roses blooming in January when I live in sunny Arizona, but I have to appreciate them when they are actually blooming! Timing is everything and all summer long this rose bush struggled. When traditional rose season was going on and all my other roses and flowers were thriving, this scraggly bush would just put out buds only to have them die on the vine. If one or two buds did manage to bloom it was spent before the day ended. I babied it, fertilized it, shaded it, kept a close eye on it and made sure it had enough water…. then I considered giving it up for another plant all together. Sometimes I feel like that about being in business for myself. The inventory, the marketing, the paperwork, doing the taxes, etc, etc, etc, can be overwhelming for the right brain part of me. (I've said it before and I'll say it again, I'm not even sure I have a left brain!) But when I create that one great piece, the one that I dream up from my imagination, and it comes out exactly like I want it to, or when I receive joy from a student that tells me I helped them make a piece of jewelry that they never thought they would be able to make, that's the rewarding part of this business.
I want to encourage you to take a breath if you sometimes find that things aren't going the way you want them to, when you want them to, remember that like the rose that is now thriving in my garden…. The effort isn't wasted, the timing just may not be right! And by the way, this picture was taken on the Winter Solstice, December 21, 2013 and it still has all the blooms today, January 10, 2014!
Copyright © Mary M. Ehlers, Good Muse Designs 2014. All rights reserved.
« I don't want to talk about it! Chocolate, Hearts, Flowers…and Love, Love, Love! »