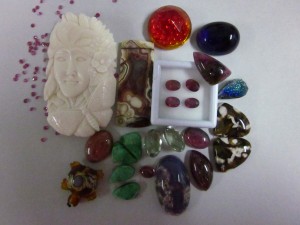 It's time for the 2012 Tucson Gem show!  This show is one of the largest shows of its kind in the world…yes the entire world and it's right in my back yard. (Doing the happy dance, I'll be posting pictures soon…of the show, not the happy dance…) The Tucson gem show is actually many different shows with hundreds of vendors, that all come to town the end of January and beginning of February.  If this is your first time visiting Tucson during this fun and crazy, shop till you drop (and then get up and do it again for two – three weeks solid) extravaganza there are a few things I have learned that will help you survive!
1. Bring your credentials
Many of the shows require you to have a business license or tax ID  in a jewelry related field like a designer, a manufacturer, retail store that sells jewelry (so no, your Uncle Bob's Sporting Goods store license won't get you in to the hard-core shows). You will also want to bring business cards, address labels printed with your contact information and business license number, this will save you lots of time and a trip to urgent care for writer's cramp.
2. Bring a light weight but sturdy backpack or a small rolling suitcase.
Your treasures will get heavy really quickly.  Plan ahead even if you think "you aren't buying today"…trust me on this one… If you choose to bring a rolling suitcase PLEASE don't leave it in the aisle…. I get inside those big tents filled with sparkling and shining gemstone and I am not looking down, I haven't fallen over a suitcase yet but I've seen it happen and it's not pretty!
3. Don't forget the essentials
Coffee may be necessary after a day or two of power shopping but what you really need is WATER….Tucson is in the Desert, bring a refillable water bottle, you will get thirsty…. (This may show up as a head ache caused by dehydration.) Lip balm is your friend. Baby wipes or anti-bacterial wipes are indispensible. One last thing…. don't forget to bring pain reliever and any medicine you might need, better to be safe than sorry!
4. Bring a list of "must haves"
Go through your inventory before heading to the show this way you can replace items you need and not over buy on things you might not need.  I can't tell you how frustrating it is for me to get home with 2 millimeter silver tubing when what I need is 3mm! If you are looking for beads that match some you already have, string them on a stretchy bracelet so you can compare them at the show.
5. Budget
Know what you want to spend on your must haves and add some splurge money…. There is so much eye candy here that it's soooooo easy to get carried away and blow your entire allocation in a few days.  Tally your totals at least at the end of every day.
6. Cash is King
For small purchases you will want to bring some cash.  Many vendors will not accept credit cards for under $100.  It's also great to have some small bills to tip the shuttle bus drivers.
7. Click it and Zip it!
I like to bring a retractable sharpie marker so that I don't have to keep track of a cap and I bring my own zip lock bags for stones and small findings.  Often vendors will bag the entire purchase in one large bag. By bagging items myself I can write notes on the cost of each item for inventory. I also add information about the names of stones and attributes the gem dealers share.
8. Dress for comfort.
Tucson is not known for being the fashion capital of the world. Not to say that we don't have some pretty stylish individuals, but pretty much anything goes here most of the time. I have even seen people in shorts at weddings and funerals, and no one batted an eye, (God, I love it here.) Comfortable shoes and layered clothing will get you through chilly mornings, sunny afternoons and even a little rain if we are lucky (we need the rain)!
9. Pack a snack.
This is really important if you are shopping with what I call "power shoppers."  Once they start gem show shopping they don't stop…really, from the moment they open the doors until they lock them up they won't stop to eat, converse, take a phone call…well you get the picture.  There are usually some type of food vendors but if you want something healthy, you had better bring it yourself….
9) Buy tools last.
Tools are heavy and they get even heavier as the day wears on. Scope out the tool vendors and make a list of the things you want and how much they cost so you can return at the end of the day or at least before you leave that show. Also look for free magazines. Remember to get them on your way out the door rather than on your way in.

10. Take a fun class
There are all types of jewelry related classes and activities scheduled during the gem show from how to make jewelry, to photographing your jewelry or even jewelry business classes. Do an online search for the type of class you are interested in and sign up.  I will be teaching metal clay classes in my studio www.goodmusedesigns.com! I hope you will join me for a fun, easy afternoon. I can show my tips and tricks and you can create something wonderful in Metal clay.
Copyright © Mary (Marnie) Ehlers, Good Muse Designs 2012- All rights reserved.
« Inspire the Muse! Win Fine Silver Earrings I'll tell you where you can go! »