I LOVE Valentines day! I know it's a commercial holiday but hey, they are all commercial holidays in this day and age, besides, what's not to love? Chocolate, hearts, flowers, and in Tucson it's Girl Scout cookie time! Yeah I know it's a Pollyanna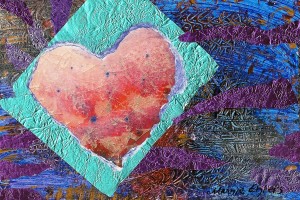 view, and I know that there are lots of people out there in the world without someone special in their lives, or that have health issues or problems that can't be fixed with a paper note, but life is like that. The dark, dark, dark, times make the good times so much sweeter and more interesting. I wish that during these times it would be easier to look ahead. I can remember the time in my life when I created the heart portion of this collage art piece. My heart was being hammered, broken, and stressed beyond what I thought I could endure.
Here's the short story on that time: The only thing I really ever wanted to be was a mother. I grew up as my neighborhood "pied piper." So the 12 years of infertility and ectopic pregnancies weighed heavily on my heart. When we finally decided that adoption was the path to take, that was another life lesson in endurance…. We were finally selected as birth parents and spent months taking our birth mother to appointments, planning for the arrival of a new baby, trying to not get too attached. Our birth mother made it impossible to keep our expectations in check by pushing us to decorate the baby's room, calling us often with comments like "your baby has been very active today", and other things like that. When the most beautiful baby I had ever seen was born we were at the hospital. We held her, and named her, and took pictures…. and fell instantly in love. We waited the few days that you have to wait to bring her home. Moments before we were out the door with our car seat buckled into the car our social worker called……… The birth mother had changed her mind the night before. I felt like someone had ripped my heart from my chest and beat it with a baseball bat.
Shortly after that we became the parents of our two boys. They came to us as a set when they were 6 and 3 1/2 years old. They also came with a set of values that were completely different than the ones we lived by. They came with distrust and attachment issues. It turned out that I wasn't very good at being a mom but I made it through (barely!) Those were some tough years. Pollyanna had left the building planet. My rose colored glasses were missing and then found smashed under a rock in the back yard a few years later, they couldn't be salvaged. Yes, I made it through those years…. older but wiser is the phrase that comes to mind.
So what does all this have to do with Valentine's Day? What does it have to do with giving paper hearts and candy and flowers and jewelry? (<——shameless plug).  Valentine's Day reminds me that there is hope, that Love is never wasted. When I see all those red heart balloons, heart shaped boxes of chocolate and cards with pink and red envelopes in the grocery stores, I remember that even bruised and battered hearts have the capacity to love. I think I'll send my now grown up sons a valentine and let them know how much I love them, because they survived having me as a mom and believe me, it wasn't easy!
*Here is a little Valentine's Day love for you too. Use coupon code: ShowMeSomeLove for $10 off any jewelry or class purchase on my web site of $50 or more this month! The password is case sensitive.
Copyright © Mary M. Ehlers, Good Muse Designs 2014. All rights reserved.
« Roses in Winter! I love it when "Plan D" comes together! (My Precious is baaaack…) »